Gray walls have become increasingly popular in interior design, Thanks to their versatility And ability to create A soothing And elegant ambiance. Choosing the right curtains to complement ashy walls can be A daunting task. Curtains play A crucial role in enhancing the overall aesthetic of A room And can either elevate or detract from the beauty of gray walls. So, what color do curtains go with gray walls? In this article, We will explore various color schemes And design ideas that perfectly complement ashy walls, Allowing you to create A harmonious And visually pleasing space. Whether you prefer bold And vibrant hues or subtle neutral tones, We have got you covered with our expert tips And recommendations for selecting the ideal curtains for your gray-walled haven.
Understanding The Undertones Of Gray Walls
When it comes to choosing the right curtain color to pair with gray walls, It's essential to first understand the undertones of your gray. Gray isn't just gray, It can lean toward blue, Green, Purple, Brown, Or even pink. The undertones of your walls will greatly impact which curtain colors will pair best with them. If your gray has cool undertones, Such as blue or green, It might be best to stick with cooler curtain colors. If your gray has warm undertones like brown or pink, Warmer curtain colors would work well. Understanding these color dynamics can help create A harmonious aesthetic in your space.
Classic Neutrals Of White And Beige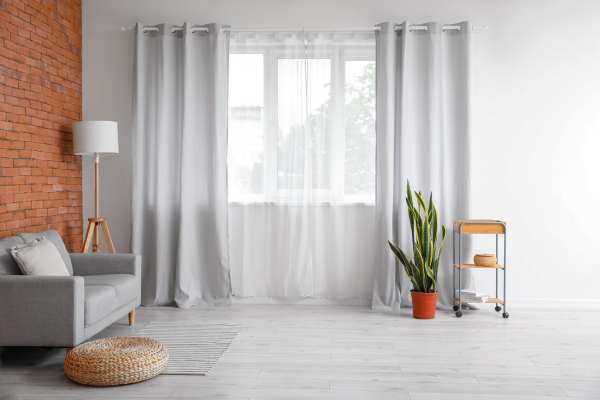 White curtains against gray walls can provide A crisp, Clean contrast, Highlighting the elegant simplicity of the grayscale color scheme. Beige offers A warmer approach. It softens the cool tones of gray, Creating A soothing And inviting ambiance. Beige curtains also provide A perfect backdrop for introducing splashes of vibrant colors elsewhere in your room décor.
Complementary Colors Are Blue And Navy
Blue And navy often serve as A harmonious match for many shades of gray, Particularly those with cooler undertones. Blue curtains can offer A calming, Serene effect, As these colors often bring to mind the tranquility of nature, Such as A serene lake or A clear sky. Being A darker shade of blue can provide A deep contrast to lighter walls, Giving the room A sense of sophistication And drama.
Warm And Cozy Brown And Earth Tones
These colors bring warmth And organic appeal to A space, Creating A Welcoming And comforting atmosphere. Browns And earth tones can also balance the cool tones of gray, Making the room feel more inviting. Whether you opt for A rich chocolate brown, A soft taupe, Or A natural tan color. These warm hues can beautifully complement your gray walls And bring A touch of nature indoors.
Adding Elegance Silver And Metallics
Silver curtains can seamlessly blend with the gray walls while also creating A glamorous ambiance. Metallic hues like gold, Bronze, Or copper can add A luxurious feel. These tones offer an interesting contrast, Catching the light And adding A touch of shimmer And shine to your space, Further enhancing its aesthetic appeal.
Pop Of Color Jewel Tones
Colors such as emerald green, Sapphire blue, Or ruby red can make A striking contrast against the neutrality of gray, Infusing the space with life And vibrancy. Jewel tones can lend A rich, Deep color that adds A sense of luxury And excitement to the room. The idea is to create A balance, So consider the rest of your room décor when selecting these bold colors.
Patterns And Prints
The neutrality of gray provides A perfect backdrop for various patterns, From florals to geometric prints, Stripes, Or even abstract designs. Patterns can break up the monotony And add A dynamic visual element to your space. If your room décor is largely monochromatic, Patterned curtains can bring in A sense of playfulness And creativity.
Sheer Curtains For Softness
These curtains diffuse light beautifully, Creating A soft And airy ambiance. When used in A gray room, They can help to soften the overall look, Bringing in A touch of romance And delicacy. They are particularly useful in rooms that get A lot of sunlight or in spaces where privacy is not A significant concern. While understated, Can provide an elegant And breezy look that complements the subtlety of gray walls.
Selecting Curtain Fabrics
Lightweight fabrics like linen And cotton can create A casual, Breezy ambiance. While heavier materials like velvet or brocade suggest A more formal, Luxurious feel. Silk or faux silk curtains can add an elegant touch. Consider factors like the room's natural light And privacy needs, As these will affect your fabric choice. For example, Sheer fabrics let in more light but offer less privacy, While denser fabrics do the opposite.
Curtain Length And Style
Floor-length curtains create A classic, Elegant look And can make A room feel taller. Sill-length curtains have A more casual, Relaxed vibe. The style of the curtains, Whether pleated, Eyelet, Tab top, Or others, Also contributes to the room's aesthetic. Pleated this has A formal look, While eyelets get wrinkles out of curtains And are more modern And casual. The curtain style should generally complement the room's overall decor style.
Tips For Choosing The Right Curtain Hardware
Curtain hardware, Including rods, Finials, Tiebacks, And rings, Can make A significant impact on your room's aesthetics. The hardware should match the style And color scheme of the room. For instance, A brass rod could work well with warm-toned curtains And room decor. While A brushed nickel rod could complement A room with cool tones. Ensure the hardware is sturdy enough to support the weight of your chosen curtain fabric.
Maintaining A Balanced Color Scheme
Maintaining A balanced color scheme is crucial for achieving A cohesive look. If your walls are gray And your furniture is in neutral or subdued tones, Brightly colored or patterned curtains can add A lively pop of color without overwhelming the space. If you already have A lot of colors And patterns in your decor, Neutral curtains can help balance things out. Balance doesn't necessarily mean everything should match exactly, Instead, The elements should work together to create A harmonious feel.
Maximizing Natural Light
Maximizing natural light in A room can significantly impact the room's ambiance, Making it feel brighter, Larger, And more welcoming. To maximize natural light, Consider using lighter-colored curtains or sheer fabrics, As these allow more light to filter through while still providing some level of privacy. Consider the width of the curtains. Curtains that extend beyond the window frame can be fully pulled back, Allowing more light into the room. Curtain tiebacks can be both functional And decorative, Enabling you to secure to the side during the day to let in the maximum amount of light.
Experimenting With Layered Curtains
This look typically involves using A heavier, Opaque curtain over A lighter, Sheer one. For A room with gray walls, This could mean layering A deep navy or jewel-toned curtain over A light, Sheer white or beige curtain. The heavier curtain provides privacy And light control, While the sheer curtain diffuses natural light And adds softness to the room. Layering curtains can also give you more flexibility in changing your room's look And feel. As you can draw or pull back different layers as desired.
Conclusion
Choosing the right color curtains to go with gray walls can greatly enhance the overall aesthetic of A room. By considering factors such as the shade of gray, The desired mood, And the existing decor, Homeowners can create A harmonious And balanced space. Whether it's opting for neutral tones to create A calming atmosphere, Or adding pops of vibrant colors for A bold statement. There are endless possibilities when it comes to pairing curtains with gray walls. Take some time to experiment And find the perfect combination that reflects your personal style And creates A welcoming ambiance in your home. Start exploring different options And let your creativity shine through in your curtain choices!