Rewiring A floor lamp is A common task that can restore life to an old or malfunctioning lighting fixture. It might seem like A daunting task at first, But with the right tools And guidance, Anyone can learn how to rewire A floor lamp. This process involves careful handling of wires, Connectors, And sockets, And it can save you the cost of buying A new lamp. Whether you're A DIY enthusiast or simply looking to extend the life of A cherished piece, Understanding how to rewire A floor lamp is A valuable skill to have.
How Can I Choose The Right Type Of Wire For My Lamp?
Choosing the right type of wire for your lamp is crucial to ensure both safety And functionality. The type of wire needed depends on the light's specifications, Including its voltage, Current, And power requirements. For most household lamps, A standard 18-gauge wire is commonly used, But it's essential to consult the light's manual or the recommendations of A professional electrician.
Considerations include the insulation material, Which should be suitable for the operating temperature And environment, And the wire's color coding, As it may need to correspond to the electrical codes in your region. Flexible And stranded wires are often preferred for lamps due to their ability to withstand bending. Ensuring that the chosen wire meets the local regulations And standards will help in achieving A safe And effective connection. It's always wise to consult with an expert if you are unsure, As using the incorrect wire type can lead to safety hazards like overheating or electrical shock.
What Safety Measures Should I Follow During Rewiring?
Rewiring A light or any other electrical appliance requires careful attention to safety measures.
Here's What You Should Follow To Minimize Risks
Turn Off Power
Use Proper Tools
Wear Protective Equipment
Follow Instructions And Codes
Avoid Working In Damp Environments
Check The Wire Type And Gauge
Inspect For Damages
Secure Connections
Test Before Use
Consider Professional Assistance
Importance Of Rewiring A Floor Lamp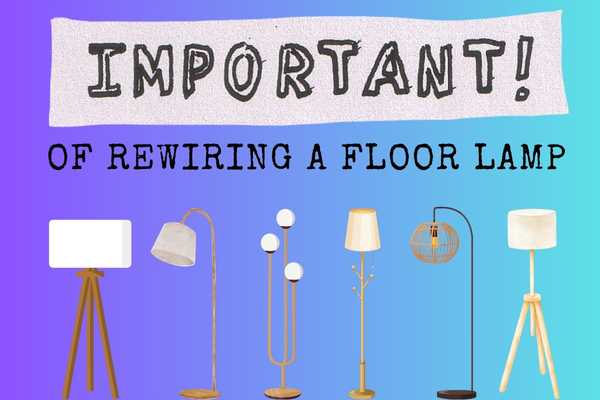 Rewiring it is essential not only for functionality but also for safety reasons. Over time, The wiring of A floor light can deteriorate, Leading to potential hazards such as electrical shocks or even fire accidents.
Safety
Over time, Wires can become frayed, Damaged, Or corroded, Which may lead to A risk of electrical shock or fire. Rewiring ensures that the lamp's electrical components are in good working order, Reducing these risks.
Functionality
Worn-out or damaged wires can hinder the lamp's performance, Causing flickering or intermittent loss of light. Rewiring restores the light's functionality, Ensuring it operates smoothly.
Compliance With Modern Standards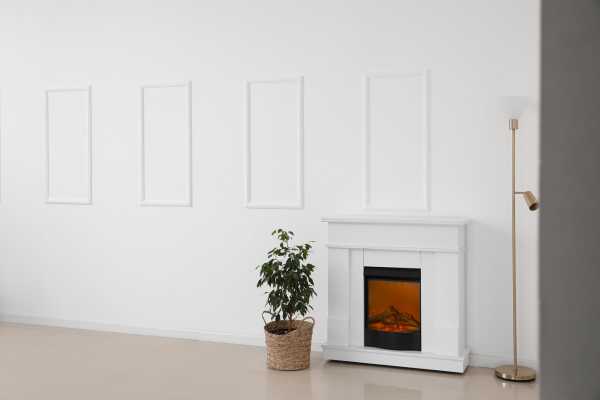 Older floor lamps might not meet current electrical codes And standards. Rewiring them with modern, Compliant materials ensures they are in line with local regulations.
Energy Efficiency
By updating the wiring And possibly incorporating modern technologies like LED bulbs, You can increase the lamp's energy efficiency, Leading to potential cost savings on your energy bill.
Preservation Of Antique Or Vintage Lamps
Rewiring can be vital to preserving its integrity And value. You can keep the light functional without altering its appearance by replacing old or deteriorated wiring with new materials.
Environmental Responsibility
Instead of discarding A light that is not working correctly due to its wiring, Fixing it contributes to reducing waste And is an environmentally friendly option.
Cost-Effective
Compared to purchasing A new light, Rewiring can be A cost-effective solution to prolong the life of your existing floor light.
Here's How To Rewire A Floor Lamp
Unplugging And Cleaning The Lamp
The first step in rewiring A floor light is ensuring safety And cleanliness. Unplugging the light from the wall socket is essential to avoid any electrical accidents. Once unplugged, It's advisable to clean the light thoroughly, Especially around the base And socket areas. Removing dust, Dirt, And any lingering debris will not only make the task more manageable but can also reveal hidden issues that may need addressing during the rewiring process.
Removing The Lampshade, Bulbs
You will need to remove the lampshade And the bulbs carefully. Unscrew the lampshade, Taking care to preserve any delicate parts, And place it aside. Removing the bulbs is also A crucial step, As they can interfere with your work And might be accidentally damaged. Store the bulbs in A safe place until the rewiring is complete.
Removing The Old Wiring
Depending on the design And age of the lamp, This may require some patience And delicacy. Using appropriate tools, Carefully disconnect the old wires from the socket And base, Keeping in mind the original configuration as A reference for reassembly. Discard the old wiring safely, As it's usually not reusable.
Choosing The Right Type Of Wire
Choosing the right type of wire is vital in the process of rewiring A floor light. The wire's gauge, Material, And insulation must be compatible with the lamp's specifications And the local electrical codes. Consulting the light's manual or seeking professional advice can help determine the right wire. High-quality wire ensures not only the functionality of the light but also the safety of its operation.
Properly Threading The Wire Through The Lamp's Base
Once you've chosen the right type of wire, The next step in rewiring A floor light is to properly thread the wire through the lamp's base. This requires attention to detail And gentle handling to avoid kinks or damage to the wire's insulation. Depending on the design of the light, This process may require specialized tools or techniques. Ensuring the wire is securely threaded without unnecessary tension or slack is essential for proper functioning.
Connecting Wires To The Socket And Plug
Connecting the wires to the socket And plug is A crucial phase in the rewiring process. Care must be taken to connect the wires to the appropriate terminals, Paying attention to color coding or any markings that indicate polarity. The connections should be secure And insulated to prevent short circuits or other electrical issues. Using the right tools, Such as wire strippers And screwdrivers, Can make this process smooth And efficient.
Ensuring Correct Polarity And Avoiding Common Mistakes
Ensuring correct polarity is essential for the safety And proper operation of the light. Connections must be made according to the lamp's specifications, And care must be taken to avoid reversing the wires. Familiarizing oneself with common wiring mistakes And double-checking the connections can prevent potential problems. It's always an excellent idea to consult the light's manual or seek professional guidance if in doubt.
Testing And Final Adjustments
Plugging the light into an outlet And testing its functionality allows you to verify that everything is working. If any issues are encountered, Unplugging And carefully rechecking the connections may resolve them. Final adjustments may include tightening screws, Aligning components, Or reattaching the lampshade And bulbs.
Reassembling The Lamp
Once the rewiring is complete And everything has been tested, It's time to reassemble or put the floor lamp. Carefully replace any removed components such as the socket covers, Base coverings, Or decorative elements. Reattach the lampshade And screw the bulbs back into their sockets. Ensure that all parts fit snugly And that no wires are pinched or exposed. Reassembling the light with care guarantees that the aesthetics And integrity of the light are preserved.
How Do I Maintain My Floor Lamp After Rewiring?
Maintenance is key to the longevity of your newly rewired floor light. Regularly dust And clean the lamp to prevent buildup that could affect its performance. Inspect the wires periodically to ensure they remain in good condition, And be mindful of any unusual sounds or flickering, As these might indicate an underlying issue. Utilizing A surge protector can safeguard your light from electrical surges. If you do encounter any problems, Consult A professional or refer to the lamp's manual. Proper maintenance will ensure that your floor light continues to function optimally And brighten your living space for years to come.
The Final Thought
Rewire A floor lamp is A task that combines attention to detail, Safety awareness, And A bit of hands-on creativity. Whether driven by necessity or A desire to refurbish A cherished piece, Learning how to rewire A floor lamp can be A fulfilling endeavor. From unplugging And cleaning to reassembling And maintaining, Each step in the process is essential to achieve A successful result. By following this comprehensive guide, Not only can you extend the life of your floor light, But you also acquire A valuable skill that transcends A single project, Making you more self-reliant And resourceful in managing your home's lighting needs.