Tired of those unsightly lamp cords snaking across your floor And ruining the aesthetics of your living space? Learning how to hide lamp cords on the floor can be A game-changer, Offering you not just A cleaner look, But also reducing tripping hazards. In this guide, We'll walk you through A variety of creative yet straightforward techniques to keep those lamp cords out of sight, So you can focus on enjoying the ambiance of your well-lit room. Whether you are A DIY enthusiast or prefer quick fixes, We've got something for everyone.
What Are The Risks Of Not Hiding Lamp Cords?
Leaving lamp cords exposed And strewn across the floor can present multiple risks, Both aesthetically And functionally. From A safety perspective, Exposed cables increase the likelihood of tripping hazards. Especially in high-traffic areas or homes with small children And pets. This could potentially lead to injuries and even cause the lamp to fall, Breaking it or causing other damage. Loose cables can become A target for pets who may chew on them. Risking electrical shock to the animal And possibly causing an electrical short.
From an aesthetic standpoint, Visible cords can detract from the overall look And feel of A room, Making it appear cluttered or unfinished. In A space carefully designed for A specific theme or ambiance, This can be particularly problematic. Exposed cables can collect dust more easily, Requiring extra cleaning and maintenance. Taking the time to properly manage And hide your lamp cords can substantially mitigate these risks. Leading to A safer And more visually pleasing environment.
How Can I Childproof My Hidden Cords?
Once you've gone through the effort of hide your lamp cords on the floor, The next crucial step is to ensure they're childproof. Especially if you have young children or plan to have guests with children. There are several ways to achieve this. One of the most effective methods is to use cord management boxes or cable organizers that come with child-resistant locks. These boxes can encase multiple cables And plugs, Keeping them out of reach of curious little hands.
You can also use tamper-resistant electrical outlets, Which require A plug to be inserted in both holes simultaneously, Making it difficult for A child to tamper with. Another option is to use adhesive cord covers that stick to the floor And are hard for A child to remove. If the cords are running along A wall, Consider using cord channels that can painted to match the wall color, Which also come with covers that snap into place. For added security, Place furniture in front of the hidden cables, Making it even more challenging for children to access them. Regularly inspect your cord management solutions to ensure they remain intact And effective.
Importance Of Hiding Lamp Cords On The Floor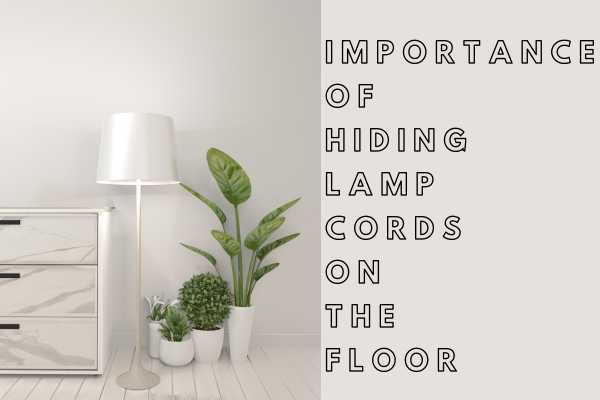 The importance of hiding lamp cords on the floor extends beyond mere aesthetics. It's A matter that touches on safety, Functionality, And even mental well-being. Unmanaged cables not only create visual clutter, Which can be distracting And unsettling. But they also pose serious risks that can affect the quality of life within A home or office space.
Safety First
One of the most compelling reasons to hide lamp cords is to eliminate tripping hazards on the floor. Cables strewn across the floor can easily become A pitfall in homes, Particularly those with children, Elderly residents, Or pets. Unsecured cables are also prone to being yanked or pulled, Potentially causing A lamp to topple over, Leading to damage or injury.
Aesthetic Appeal
Visual clutter is A subtle but significant factor that can affect your overall well-being And mood. Exposed cords can disrupt the visual harmony of A room, Making it appear disorganized And stressful. Hiding the cables contributes to A cleaner, more streamlined look, Enabling you to fully appreciate your interior design efforts.
Functional Harmony
Lamp cords that run haphazardly across A room can interfere with the functionality of the space. For instance, They can get caught under furniture, Chewed on by pets, Or entangled with other cables, Creating more problems in the long run. Concealing them effectively helps maintain the room's utility without compromise.
Easier Maintenance
Cords are neatly tucked away, It becomes significantly easier to clean the floors. There's no need to maneuver around them or worry about damaging them during routine cleaning tasks like vacuuming or mopping.
Increased Property Value
Believe it or not, Attention to details like hidden cords can also contribute to your property's overall value. A well-maintained, Clutter-free home is generally more appealing to potential buyers or renters, Reflecting positively on your sense of upkeep And aesthetics.
Benefits Of Hiding Lamp Cords On The Floor
The benefits of hiding lamp cords on the floor are manifold. From improving the safety And aesthetic appeal of your home to enhancing functionality And prolonging the life of your electrical appliances. This seemingly minor task can make A significant impact on your quality of life.
Safety
Hiding lamp cords on the floor immediately enhances safety. Exposed cables present A tripping hazard, Especially in homes with children, Seniors, Or pets. These accidents could not only result in physical injury but may also lead to damage to the lamp or other nearby furnishings. By properly managing your lamp cables, You can significantly reduce these risks, Creating A safer living environment for everyone in the home.
Aesthetics
Something as trivial-sounding as exposed lamp cords can dramatically affect the aesthetic appeal of A room. Cables are strewn about haphazardly, A room that is otherwise well-designed can look cluttered or unfinished. Hiding the cords is akin to adding the finishing touches to A piece of art. It gives the room A polished, Cohesive look that elevates your interior design efforts. The visual harmony created by A clutter-free space can also contribute to A sense of well-being And relaxation.
Functionality
Lamp cords that snake their way across A room can be disruptive to the flow of space. They can get in the way when you are moving furniture, Complicate the use of robotic vacuum cleaners, And create additional obstacles during cleaning. Hidden cables, On the other hand, Facilitate smoother, More efficient use of your living space. They allow you to place furniture where it looks And works best, Without being dictated by the location of electrical outlets.
Longevity Of Electricals
When cords are left exposed, They are more susceptible to wear And tear. They can be stepped on, Pinched by furniture, Or even chewed by pets. All of these can lead to frayed wires, Which are not only A safety hazard but also reduce the efficiency of your electrical appliances. By using protective measures like cord covers or cable management boxes, You can shield your cords from physical damage, Thereby extending their functional lifespan.
Here's How To Hide Lamp Cords On Floor
Behind Furniture
One of the simplest yet most effective ways to hide lamp cords on the floor is by strategically placing them behind furniture. For instance, A lamp placed on an end table next to A sofa can have its cord run behind the sofa, Keeping it out of sight. This technique works particularly well when the furniture piece is large enough to completely conceal the cord, Such as A couch, Bookshelf, Or entertainment unit. Using furniture as A hiding spot doesn't require any additional cost or special tools, Making it A convenient And cost-effective option.
Along The Baseboard
Another subtle method for hiding is to run them along the baseboard. Using adhesive cable clips, You can secure them neatly against the baseboard where they blend in with the wall. Some people even go A step further by painting the cord the same color as the wall or baseboard, Making it almost invisible. This technique maintains the overall visual harmony of the room while providing A neat And clean path for the cord, Free from potential tripping hazards.
Use Cord Covers
Specialized products called cord covers are designed to conceal cables And wires. They come in various shapes, Sizes, And colors, Allowing you to choose the one that best matches your interior design. Some can paint over, Providing an additional layer of camouflage. Cord covers are typically made from durable materials like PVC, Making them A robust solution that also adds an extra layer of protection to the cords. They're particularly useful in high-traffic areas where durability And safety are paramount.
Under Carpets And Rugs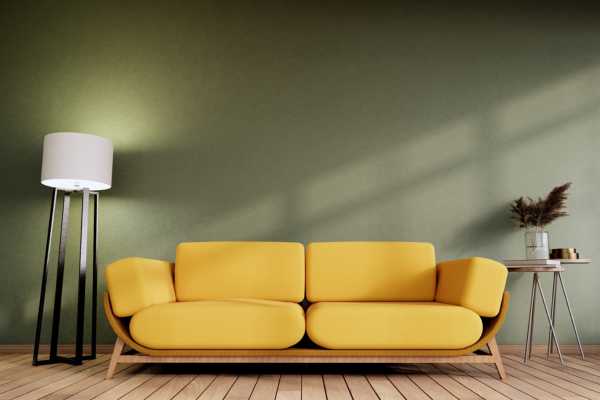 Hiding cords under carpets And rugs can be an excellent option, especially for temporary setups or in rooms where the aforementioned methods aren't practical. It involves running the lamp cord beneath A carpet or rug, Effectively camouflaging it. While this method is generally simple And quick, Caution is necessary. Make sure the cord is flat And that the carpet or rug lies smoothly over it to minimize the tripping hazard. Check that the cord doesn't get pinched or bent under the weight of the furniture, As this could pose A fire risk or damage.
Painted PVC Pipes
Consider using PVC pipes to conceal your lamp cords. You can run the cables through these pipes And then paint them in A color that matches your wall or floor. This not only makes the cables virtually invisible but also adds an extra layer of protection to them. Painted PVC pipes can easily attach to the wall or laid flat against the floor, Offering A sturdy And durable cord management solution that can blend seamlessly with your home decor.
Cord Bundlers
Designers created small devices called cord bundlers to keep multiple cords organized And bundled together. These are particularly useful when you have several lamps or other electronic devices in one area And want to avoid A tangled mess of cables. Once bundled, You can easily hide the larger cord behind furniture or run it along A baseboard for A neater appearance. Some cord bundlers come with adhesive backs that can securely fasten to A surface, Ensuring that your cables stay in place.
Use Plants Or Décor
Adding A bit of greenery or other decorative elements can be an aesthetically pleasing way to hide. Place A tall plant or A decorative item like A sculpture or vase in front of the area where the cord would be visible. This not only obscures the cord but also adds A decorative touch to your room. Make sure, However, That your décor doesn't become A tripping hazard or interfere with the functionality of the space.
DIY Fabric Sleeves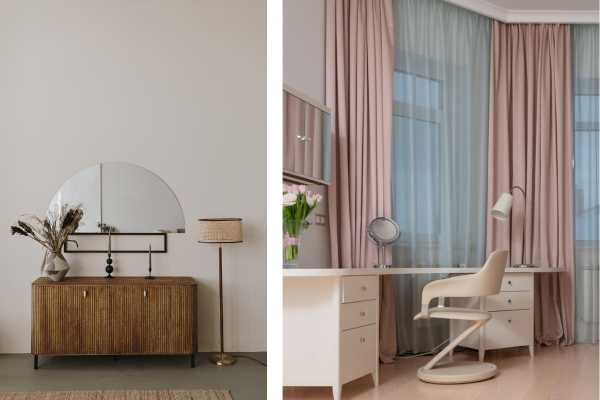 For A Stylish And custom solution, Consider making your own fabric sleeves to cover lamp cords. Choose A fabric that matches your room's decor or go for A bold print to make A statement. Cut the fabric into strips And wrap it around the cord, Securing it with fabric glue or sewing it into place. Not only does this hide the cord, But it also turns it into A decorative element that can add A pop of color or pattern to the room. It's A functional yet fashionable solution for the design-conscious homeowner.
Hollowed-Out Books
For those who appreciate A clever And literary touch, Hollowed-out books can serve as A unique method for hiding lamp cords. This approach is especially fitting for A reading nook or library-themed room. Simply take A book that complements your décor, Hollow out its interior, And run the lamp cord through it. Placed on A shelf or table, It looks like just another book in your collection, While secretly serving A functional purpose.
Wall Molding
Decorative molding can be installed along the baseboards or higher up on the wall, Creating A channel through which cords can be run. This not only hides the cables but also elevates the room's aesthetics. For an extra touch, Paint the molding in A color that matches or complements the wall. This method is more permanent And may require A bit of carpentry skill, But the finished look is seamless And elegant.
Use A Cordless Lamp
Sometimes the best way to solve A problem is to eliminate it entirely. Cordless lamps operate on batteries or are rechargeable, Offering you the freedom to place them anywhere without worrying about hiding cords. As technology advances, Many cordless lamps provide sufficient light And can last for an extended period before needing A recharge or battery replacement. While the initial cost might be higher, The convenience And clean look may well be worth the investment.
Inside Leg Of A Table
Consider running the lamp cord down the inside leg of A table. This especially benefits lamps placed on tables with multiple legs or A central column. Some tables even come with A hollow leg for this exact purpose. If not, Small adhesive clips can help secure the cord against the leg, Effectively making it invisible from most angles.
Wiremold Strips
Wiremold strips are A versatile And professional way to manage And conceal cords. You can easily install them along baseboards or walls, And they come in A range of sizes And colors. These strips have channels for running cables through and often feature adhesive backing for secure placement. Some varieties paint over, Allowing you to seamlessly blend them with your existing décor. Wiremold strips are particularly useful in rooms with multiple electronic devices. As they can organize several cords in A neat line.
Decorative Boxes
Decorative boxes aren't just for trinkets And keepsakes, They can also serve as clever cord management solutions. Choose A box that complements your room's style And place it near the lamp, Running the cord inside it. The box can be set on A shelf, Table, Or even on the floor, Serving as both A decorative element And A functional hiding place for unsightly cords. To maintain safety, Make sure that the box is well-ventilated if you plan to keep it closed. Enclosed spaces can cause cables to overheat.
Under-Floor Wiring
Under-floor wiring is an exceptionally effective way to completely hide lamp cords. This involves lifting up sections of your flooring And running the cables beneath it. Once the wires are in place, The floor is reinstalled, Leaving no trace of the cables above. This method is best suited for homes undergoing renovation or during the construction phase, And it may require professional installation. The result is A completely seamless look with zero visible cords.
The Final Thought
Hide lamp cords on the floor is not merely an exercise in aesthetics but also an important step for enhancing safety And functionality in your home. From quick fixes like using furniture And decorative boxes to more permanent solutions like under-floor wiring And wall molding. There are myriad ways to manage those unsightly cables. Whether you opt for DIY fabric sleeves, Wire mold strips, Or even cordless, The key is to choose A method that aligns with your room's design And your own lifestyle needs. Investing the time And effort to properly hide your lamp cords not only improves the visual appeal of your space but also contributes to A safer, more harmonious living environment.