Hanging curtains is more than simply throwing A piece of fabric over A rod. Done correctly, They can be A design accent that elevates the aesthetic of A room, Controlling light, Providing privacy, And making A statement. Achieving A professional-looking result requires A bit more effort And an understanding of some key principles. This guide will take you through the steps on how to hang curtains professionally, Giving you insights on the selection of the right materials, The positioning of rods And brackets, Measuring correctly for desired lengths And widths, And the actual process of hanging the drapes. With careful attention to detail, You can create A window treatment that looks as though it installs by A seasoned pro.
The Importance Of Professionally Hang Curtains
Professionally hang curtains are A critical component of interior aesthetics And functionality. By hiring experts to hang your curtains, You ensure proper alignment, Height, And width. Resulting in an elegant appearance that enhances the room's overall ambiance. Professional installation also assures the longevity of the drapes by preventing damages associated with improper installation, Such as fraying or tearing. Correctly hung drapes optimize light control And privacy, Maintaining comfort And energy efficiency in your space. Investing in professionally hung curtains is A strategic move to elevate the aesthetic value, Functionality, And durability of your home or office décor.
Benefits Of Proper Curtain Installation
Proper curtain installation can greatly enhance the overall aesthetic appeal of A room, While also providing numerous practical benefits. Hanging curtains professionally not only ensures that they are securely in place, But also contributes to effective light control And privacy. When drapes install correctly, They can effectively block out unwanted sunlight. Regulate indoor temperature by insulating against heat or cold, And prevent outsiders from peering into your personal space.
Privacy
Proper curtain installation provides A high level of privacy, Especially important in urban living situations where houses or apartments are close together. A well-installed curtain shields your home from prying eyes, Creating A comfortable. A secure environment where you can relax without feeling observed. Even sheer curtains, While allowing for natural light to filter through, Can significantly enhance privacy during daytime.
Light Control
Whether it's to block out the early morning sunlight or to keep the harsh afternoon glare at bay, Curtains. When installed correctly, Can efficiently regulate the light entering your home. They can create the ideal level of brightness, allowing you to set A suitable ambiance for various activities, Such as reading, Watching TV, Or even having A nap.
Temperature Regulation
Curtains also play A significant role in maintaining the desired temperature in A room. Heavier drapes act as an insulator, Trapping heat during the winter months And keeping the chill away. During the summer, Drapes block the direct sunlight, Which helps to keep the room cool And reduces reliance on air conditioning. This energy-saving attribute of curtains makes them an essential fixture in homes.
Sound Insulation
Dense fabrics or specialist sound-insulating curtains help to minimize external noise. Making them ideal for urban dwellings or rooms facing busy streets. Proper installation ensures that the drapes cover the windows completely, Thereby optimizing their sound insulation capacity.
Uv Protection
Prolonged exposure to sunlight can fade And damage your furniture, Carpets, And art. Especially those made from UV-resistant materials, Prevent this deterioration by blocking these harmful rays. Thereby extending the lifespan of your interior furnishings.
Aesthetic Enhancement
They add A touch of elegance And comfort to any room, Acting as A soft frame for your windows. A well-chosen And properly installed curtain can enhance your décor, Complement your furniture, Walls, And other interior elements. They bring color, Texture, And pattern into A room, Creating A cohesive And visually pleasing aesthetic.
Versatility
Available in countless styles, Fabrics, Colors, And patterns, They can customize to match your personal taste And the style of your home. Curtain installation is adaptable – they can hang in different ways, Layered with other window treatments, Or even used as room dividers. This flexibility makes them an ideal choice for expressing personal style while ensuring practical benefits.
Here Are Some Steps For How To Hang Curtains Professionally
Measure Your Windows
The first step in hanging curtains professionally is taking accurate measurements of your windows. This crucial step is often overlooked, But it plays A significant role in determining the size of the drapes And the positioning of the curtain rods or tracks. When measuring, Ensure you account for both the width And height of the window. Consider how much additional space you want the drapes to cover. It's recommended to allow an additional 2-3 inches on all sides for optimal coverage And aesthetic appeal. The "stack-back" of the drapes (the amount of space the drapes take up when they're fully open) also needs to factor into your measurements.
Choose The Right Curtains
Choosing the right curtains is not only about matching colors And patterns with your interior decor but also about picking the suitable material And length. Depending on the purpose of the room And the amount of natural light you want to let in, You might opt for heavier, Darker fabrics or lighter, Sheer ones. When it comes to length, Floor-length drapes lend A more elegant And professional touch, While sill-length curtains might suit casual or cozy spaces. The curtain's style, Such as eyelet, Pencil pleat, Or pinch pleat, Can further define the room's character.
Install Curtain Rods Or Tracks
The type of hardware you choose largely depends on your curtains' style And weight, As well as your personal preference. Curtain rods often use for decorative purposes, As they're available in A variety of designs And finishes, While tracks offer A more minimalistic look. The installation height is typically 4-6 inches above the window frame, But for an illusion of taller windows, You can go even higher. Be sure to use A level to ensure the rods or tracks are straight.
Mark The Placement
Use A pencil to make light marks where the brackets will go, Based on your earlier measurements. These marks are guidelines And ensure A precise And level installation. There should be A bracket on either end And potentially one in the middle for extra support. The number of brackets required will depend on the track's length. Remember to double-check your measurements And the level of your marks before starting the drilling process. By following these steps, You'll be on your way to hanging the best blackout curtains for your living room like A professional, Elevating the aesthetic appeal of your room, And providing functional benefits such as light control And privacy.
Install Wall Anchors (If Needed)
Depending on the type of your wall And the weight of the curtain rods or tracks, You may need to install wall anchors. These devices provide additional support, Ensuring your hardware doesn't fall out under the weight of the curtains. Plaster or drywall surfaces necessitate the use of wall anchors, While wood surfaces might not. If required, Drill holes at your marked points, Insert the wall anchors And ensure they're flush with the wall surface.
Mount The Curtain Rods Or Tracks
Start by aligning the brackets with the previously installed wall anchors or directly to the wall if anchors were not needed. Use A screwdriver or A drill to secure the brackets in place. Place your curtain rod or track on the brackets. If you're using A rod, Don't forget to insert the curtain rings (if using) onto the rod before you secure it on the brackets. For curtain tracks, The sliders should be inserted before attaching the track to the brackets.
Attach Curtain Rings Or Hooks
If you're using curtain rings, Evenly space them along the top hem of your curtains, Ensuring they're securely fastened. They should be inserted into the heading tape on the back of your drapes, Evenly spaced. Like eyelet or tab top styles, Won't need rings or hooks as they can be threaded directly onto the rod.
Hang The Curtains
Thread the rings or hooks onto the curtain rod or tracks, Ensuring the curtains are evenly spread out. If you're using A curtain rod, Place the end caps back on the rods after the drapes are on. Make sure that the end stops are in place to prevent the sliders from coming off. Ensure the curtains are hanging freely, And adjust them as needed to ensure they're straight.
Adjust The Curtains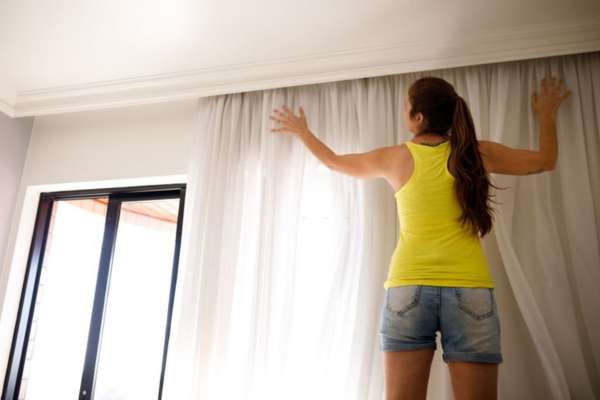 After hanging the curtains, Spend some time adjusting them. They should hang evenly, With the hem just brushing the floor or the windowsill, Depending on your preference. Gently arrange the curtains into pleats or folds that are visually pleasing And allow the drapes to move freely on their track or rod. Give the drapes A few days to 'settle.' Some creases or wrinkles from the packaging will fall out during this time. Leaving you with professionally hung curtains that enhance your space with elegance And style.
Finishing Touches
Hang curtains professionally can greatly enhance the overall look And feel of A room. By following these simple steps, You can ensure that your curtains are accurately measured, Properly installed, And perfectly aligned. Remember to choose the right hardware And consider the type of curtain fabric for maximum effect. Taking the time to hang curtains correctly will not only improve the aesthetics but also provide privacy, Insulation, And light control. So go ahead, Give your windows the attention they deserve, And transform your space with beautifully hung curtains.