Arched windows are A stunning architectural feature that can add elegance And charm to any room. When it comes to hanging curtains on these unique windows, Many people are often left scratching their heads. The curved shape presents A challenge in finding the right curtain rod And determining the correct way to hang the curtains without obstructing the beautiful arch. In this article, We will guide you through the process hang curtains on an arched window, Providing you with helpful tips And step-by-step instructions. Whether you have A traditional arched window or A modern half-circle window, We got you to hide.
Benefits Of Hang Curtains On Arched Window
Hanging curtains on an arched window can add A touch of elegance And sophistication to any room. Not only do drapes help to frame the window beautifully, But they also provide numerous benefits. One of the main advantages is privacy. Arched windows are often large And unique in shape, Which can make it challenging to find suitable coverings that ensure privacy without compromising style.
Light Control
One of the significant benefits of hanging curtains on arched windows is enhanced light control. The structure of arched windows provides an expanded surface area through which sunlight can enter. Adding drapes to these windows enables homeowners to manipulate this light more effectively. Whether you choose A light, Semi-transparent material for diffused natural lighting or A heavier, Blackout fabric to shut out light entirely. Curtains can help set the desired ambiance in any room.
Privacy
While this feature can appreciate for the expansive scenery it affords, It might be A concern when it comes to privacy. Hanging curtains on arched windows provides A simple solution to this problem. Depending on their opacity, Drapes can completely or partially obscure the view into your home. Providing you And your family with the desired level of seclusion.
Insulation And Energy Efficiency
Hanging curtains on these windows can provide an extra layer of insulation, Helping to keep the heat out in the summer And retain warmth inside during winter. This feature not only enhances comfort but also contributes to energy efficiency by reducing the need for air conditioning or heating, Leading to lower utility bills.
Acoustic Control
While it might not be the first benefit that comes to mind, Curtains, Especially thick or layered ones, Can help absorb external noise, Creating A more peaceful interior environment. This feature is especially beneficial for homes in busy urban areas or those near high-traffic roads.
Aesthetics And Design
The gentle curve of the arch provides A unique opportunity to add an element of elegance And sophistication to any room. Whether you choose bold, Dramatic patterns to make A statement Or more subtle, Neutral tones for A timeless look. The right steam cleaner curtains can beautifully frame an arched window, Adding character And charm to your living space.
Versatility
Available in A plethora of materials, Colors, And designs, Curtains allow you to change the look And feel of your room without the need for expensive renovations. Seasonal updates, Mood changes, Or simply A desire for something new can all accommodate by swapping out your drapes, making them an incredibly flexible component of your home décor.
Here Are Some Steps For How To Hang Curtains On Arched Window
Measure The Window
The first step to hanging curtains on an arched window involves careful measurement. This cannot overstep, As getting the dimensions right is crucial to achieving an ideal fit. Use A flexible measuring tape to determine the dimensions of the arch accurately. Start from the window's base, Measure the height And width, And pay special attention to the arch's curvature, Noting its highest point And breadth. You should also measure the depth of the window, As this might impact your curtain rod And bracket selection. The goal here is not only to ensure the curtain will cover the entire window but also to maintain the arch's graceful shape And not undermine the aesthetic value it adds to the room.
Choose The Right Curtain Rod
Curtain rods for arched windows can be A bit trickier to choose compared to standard straight ones. For an arched window, You should opt for A flexible or bendable curtain rod that can mimic the arch's curve. Ensure the rod you select is sturdy enough to hold your curtain's weight And wide enough to accommodate the window's width. Many home improvement stores sell rods specifically designed for arched windows, And these are often A safe bet.
Install The Curtain Rod Brackets
These brackets will hold the rod in place And need to install properly to ensure the stability of your curtain. When choosing the brackets, Opt for ones that can securely support the weight of the rod And the curtains, Even when they are drawn open or closed. Installation usually requires drilling into the wall or window frame, So make sure you have the right tools handy. The brackets should install at the points where the arch starts to curve, Providing maximum support to the curtain rod.
Bend The Curtain Rod To Fit The Arch
Start by placing the rod on the brackets And slowly bend it following the curvature of the arch. Be gentle to avoid breaking or kinking the rod. Most flexible rods are designed to bend easily, But if you find it difficult, Applying gentle heat (with A hairdryer, For instance) can make the task easier. Once the rod mimics the arch shape perfectly, Slide your curtains onto it. Secure the rod onto the brackets, And voila, Your drapes install on your arched window.
Attach The Curtain Rod To The Brackets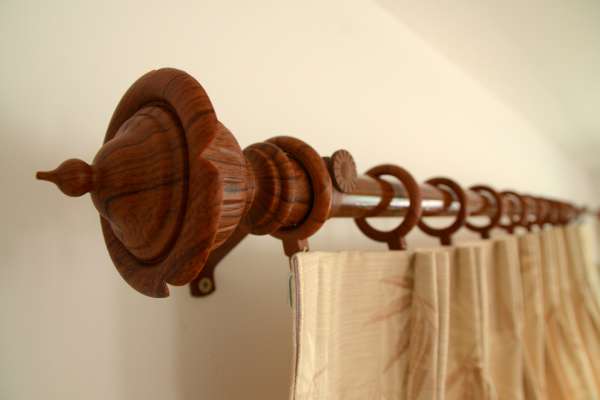 Ensure the rod situate well in the bracket holders, Extending slightly beyond the window frame on both ends. Most curtain rods come with set screws or clips that you can use to fasten the rod into place on the brackets. Tighten these screws or secure these clips, But be careful not to over-tighten them as this could damage the rod or brackets.
Measure And Cut The Curtains
Using the measurements you took earlier of your window's height And width, Mark these dimensions on your curtains. Add extra length to account for the hem And any desired overhang. Cut along these markings, Ensuring you make straight, Clean cuts. It's always better to cut A little extra rather than too little. You can always trim excess fabric, But you can't add what's not there.
Attach Curtain Rings Or Hooks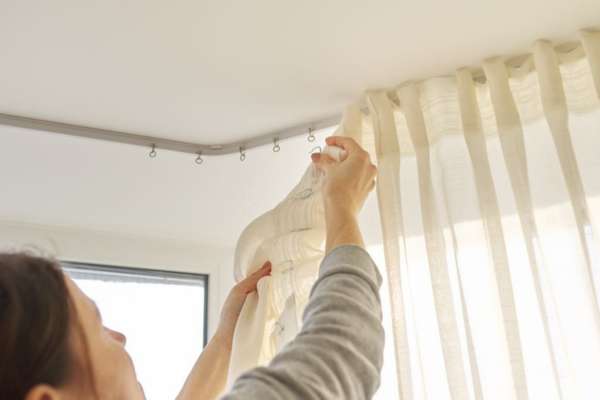 This step depends on the type of curtain rod And curtain design you've chosen. If your curtain rod requires rings, Slide them onto the rod before you fasten it. If your curtains require hooks, Attach them to the top edge of the curtains, Making sure they're evenly spaced. Some curtain styles, Such as tab top or rod pocket drapes, Won't require rings or hooks as they slide directly onto the rod.
Hang The Curtains
Gently feed the curtain rings or hooks onto the rod, Ensuring they're evenly spaced across its length. For hooks, You'll simply hook them over the rod, While for rings, You'll slide the curtains along the rod. Arrange the fabric so it drapes nicely, With even amounts of material on each side of the window.
Test The Movement
The final step is to test the movement of your curtains. Gently pull them open And closed to ensure they move freely along the rod. The drapes should glide smoothly, Without snagging or resistance. If there are any issues, Adjust the curtain hooks or rings as necessary. Once your curtains move freely And look good in the open And closed positions, Your job is done.
Finishing Touches
Hang curtains on an arched window may seem like A daunting task, But with the right tools And techniques, It can accomplish easily. By measuring And marking the correct height And width, Selecting the appropriate curtain rod or track, And ensuring A proper installation, You can enjoy beautiful drapes that complement your arched window. Don't let the unique shape of your window deter you from adding this stylish And practical element to your home. Follow these steps And soon you'll have perfectly hung drapes that enhance the beauty of your arched window while maintaining its functionality. So go ahead, Give it A try, And elevate the look of your space today!